Oct.16, 2020
Coronavirus patients at Poriyah Medical Center smiled with joy and excitement to meet with Dream Doctors inside their rooms for the first time this week.  Leaders of this trailblazing initiative worldwide, Dream Doctors are the first medical clowns to work directly with corona patients inside corona wards.
Article translated from Hebrew publication LELO HAGBALA
Photo left: Mia Tza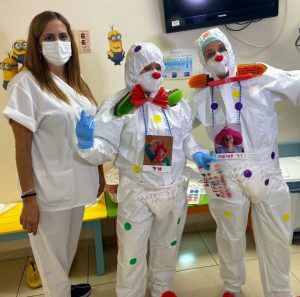 ban, spokeswoman at the Poriyah Medical Center with Dream Doctors Shoshi Ofir and Tal Stein.
Since August, more and more Israeli hospitals are recognizing the urgent need for emotional relief for coronavirus patients.  Dream Doctor DR. HARTA (Shoshi Ofir) explains, "The second wave brought in more patients, many of whom are in critical condition.  In addition to fighting their physical ailments, they are also struggling emotionally.  Many feel like they're some kind of leper because no one wants to come near them.  The nurses usually go in and out very quickly and are almost unidentifiable in their protective gear.  They feel guilty for being infected and are afraid of infecting others.  We're there to help raise their self-esteem, overcome guilt and give them the feeling that they're wanted, loved and important. "
The hospital's director, Dr. Erez Onn said, "We have no doubt that medical clowns have a very significant contribution to make in improving the atmosphere and lifting patients' spirits.  Seeing them on a daily basis will help patients maintain a positive and optimistic attitude. This is even more important in corona wards where patients are physically and emotionally disconnected from their families- and even the medical staff- for days or weeks on end."  Before entering the ward, the clowns underwent a detailed training with Ilana Aharon, an epidemiological supervisor in the Infection Prevention Unit.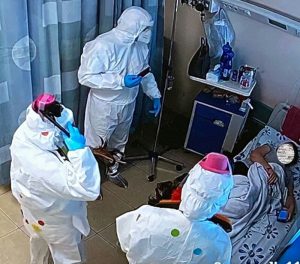 DD clown, DR. TILL (Tal Stein) said after the first session, "We could feel a renewal of energy and strength among the patients.  We brought them connection them to the outside world and the experience of human touch.  Every patient wanted to talk to us and asked us to come again".  Shoshi Ofir concluded, "We plan to go into the corona ward every day.  We create a personal connection with the patients through singing, laughing, dancing, listening and chatting with them in a spirit of nonsense.  It's very moving to see the patients smile with so much joy".
Already in the first wave, Poriyah Medical Center was the first to incorporate Dream Doctors in the treatment of corona patients, but activity was limited to working behind the nurses' station, and the clowns could only communicate with patients through a sealed window.
The medical center's director, Dr. Erez Onn said, "We have no doubt that medical clowns have a very significant contribution to make in improving the hospital's atmosphere and lifting patients' moods.  Meeting Dream Doctors on a daily basis will help patients maintain a positive and optimistic attitude. This is particularly important in corona wards where patients are physically and emotionally distanced from their families- and even the medical care staff- for days or weeks on end."