Trauma Care for Children in Collaboration with Hosen (Resiliency) Centers
Drawing on their extensive experience and specialized training in the field of trauma, Dream Doctors have developed innovative methods for supporting those suffering from post-traumatic stress disorder (PTSD).  Currently, DD's main community project operates in collaboration with ' Hosen' (Resiliency) Centers in Israel's South.  Dream Doctor's multidisciplinary, therapeutic program offers vital support to children suffering from PTSD as a result of the ongoing threat of missile attacks on communities near the Gaza Strip.  The program operates during periods of intermittent calm and offers small groups of children, together with their parents, a safe space to open up, build trust, and develop coping skills for dealing with the impact of living in a state of stress and anxiety.  Using therapeutic drama games, humor, art, mindfulness,  problem-solving activities, storytelling, and more, the program aims to help children explore a range of creative and emotional expression.
"Parents' reports indicate that the benefits of the program have made a significant impact.  The program provides a much- needed safe, communal space for children to re-build a sense of trust and security in their lives, while also helping them develop a much wider spectrum of coping skills.  Based on the program's success to date, we have received many more requests from parents interested in joining a group with their children. These workshops are incredibly valuable and reach children who are much in-need of processing their experiences".
Maayan Frenkel, Director of the Hosen Center.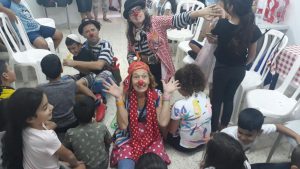 Jordan River Village
By creating free, fun-filled, memorable, empowering, medically sound and safe camping experiences, the Jordan River Village enriches the lives of children of all ethnic and religious backgrounds in Israel, who suffer from a chronic or life-threatening illness. The Village's 60-acre, wheelchair-accessible campus in the Lower Galilee of Israel is the only camp of its kind in the Middle East.
The Dream Doctors have become an inseparable part of the camp's professional staff in recent years, helping the training team make the Village an even more amazing experience and increasing the children's strong desire to return again. The therapeutic medical clowns create a good atmosphere and bring positive energy, they serve as role models for the training staff, and they offer a positive and unique approach to helping children relieve stress and resolve conflicts.